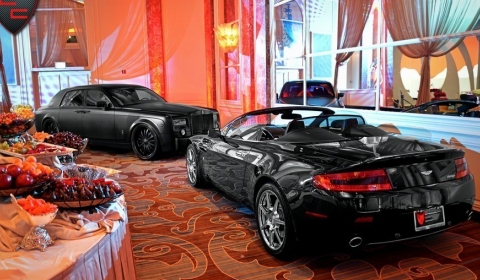 The guys at Special Car Craft were invited to a Bar Mitzvah, but not just any Bar Mitzvah. It was a $ 500,000 Bar Mitzvah at the Beverly Wilshire Hotel in Los Angeles.
The party had a James Bond 007 theme complete with life size James Bonds and a twenty minute professionally made film. In the movie, the kid is James Bond and steps out of our Matte Black Rolls Royce Phantom. Quite a party if you ask us. Charlie Shulman from Specialty Car Craft said:
We thought all we were doing was putting our car in their movie until we were asked to actually place two cars in the venue itself. So… per her request we drove an Aston Martin Vantage and our Matte Black Rolls Royce Phantom into the Beverly Wilshire Hotel!