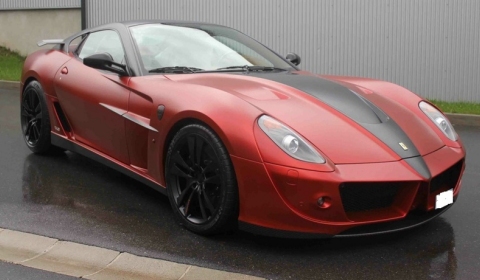 A member of Teamspeed has released information on a new project built by German car specialist Mansory. A member called Quickie asked the Germans to create a matte red Mansory 599 Stallone on the basis of a Ferrari 599 GTB. The final result is shown in the gallery below.
The vehicle is outfitted with light forged wheels sizing 9×20 inch at the front axle and 11.5×21 inch at the back axle. The Stallone is given its optical finishing touch by an aerodynamics kit made of carbon fiber. This material is already used amply in the base model of the Fiorano, but Mansory goes a step further and uses carbon fiber for all of its chassis components. Part of the expressive front structure is a down force generating front-end with special air intakes for ventilating the new intercooler.
The Mansory side skirts steady the airflow between the axes. The new rear with integrated diffuser provides the necessary extra down force. Additionally, the owner asked for more and added Ferrari 599XX details to the package. The special shark wings on each side were borrowed from the 599XX racer.
On the technical level the owner outfitted some minor upgrades. An exhaust system, improved cats, ECU remapping and a lowered suspension were installed on the matte red Mansory 599 Stallone.
The interior got a new alcantara treatment and offers a combination between leather, alcantara, carbon fiber parts and Mansory decals.