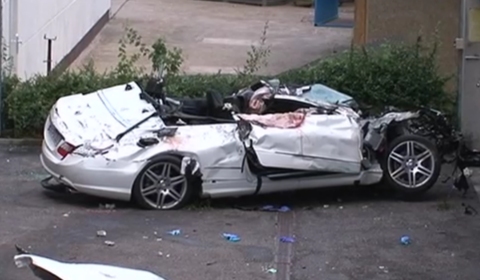 The following car crash happened about a week ago in Ditzingen in the district of Ludwigsburg, Baden-Württemberg, Germany. A 18-year old son took daddy's new Mercedes-Benz E350 convertible for a joyride with his three friends and crashed it at around 150km/h. His three friends died while the driver survived. Severely injured the firefighters rescued him from the wreckage.
According to the report, the youngster drove more than twice as fast. In a long right-hander he lost control. The car sped out of the curve, broke through a fence and a hedge. It hurled across a parking lot, and slamed into a building – six meters high.
The father is an employee of the local Daimler factory and the son did not have a driver's license.

[Via Bild.de]