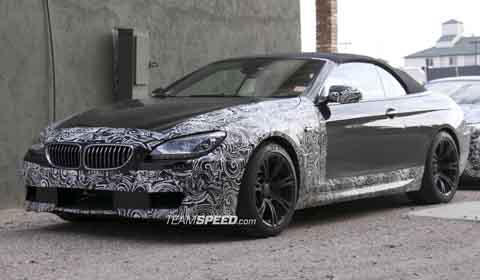 BMW has just started production of the third generation of the 6-Series Convertible (F12) and the Coupé (F13) is set to enter market this autumn, but the Bavarians are also working on the more powerful M6.
A member of Teamspeed has spotted the new BMW M6, both in coupé and cabrio form. The cars are being tested in North American desert. Notice the giant 20 inch wheels and huge brakes.
As seen in the pictures below, the M6 continues to carry the typical wider rear fenders and the usual four-tail pipe exhaust system characteristic to M models. At the front end, a more aggressive and typical M-style bumper with integrated diffuser is included as well.
The BMW M6 will be powered by a 4.4 liter twin turbocharged V8 engine, similarly what we have seen for the all new M5 model. The output power of this engine will developed close to 580 horsepower and 680Nm of torque.
The performance of the M6 is likely to be similar to the M5, which can accelerate from 0-100km/h in just 4.4 seconds, and 0-200km/h in only 13 seconds. The voluntarily limited top speed is 250km/h.
The new BMW M6 is rumored to be unveiled at the Geneva Motor Show next year.
[Via Teamspeed]