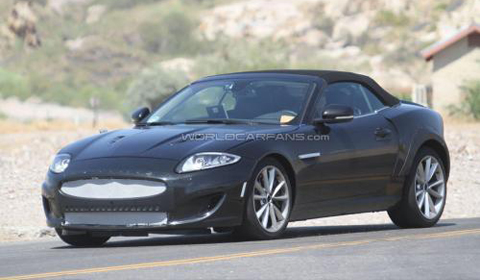 The development of the upcoming Jaguar XE is well underway as you can see in the images of the test mule doing some hot-weather testing in Death Valley, California.
The guys at WorldCarFans presented these spyshots of the new Jaguar. This mule is riding on a shortened chassis and body from the current Jaguar XK.
The Jaguar XE is essentially a smaller version of the company's XK. The XE will come in two versions, as coupé and as a roadster. The car is rumored to be powered by a V6 with at least two configurations, one naturally-aspirated and one supercharged.
The new Jaguar XE will enter the market somewhere in 2013. The car will compete with the Porsche Boxster, Mercedes SLK and BMW Z4. The British carmaker is aiming to produce 40,000 of the XE annually. More details will follow, so stay tuned!