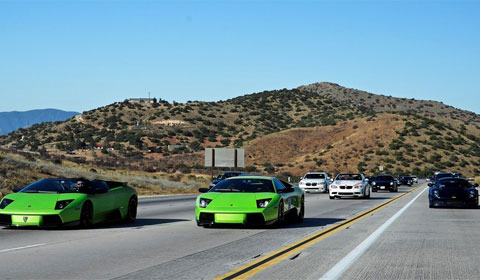 On Saturday July 9th 2011 Speciality Car Craft organized a track day at Willow Springs Raceway. Our friend Dirk was there and covered the whole event from the drive from Los Angeles to Willow Springs and the track day with some amazing photos in two galleries below.
At 7 a.m, A group of exotic cars departed from Specialty Car Craft's second location to begin the short journey to Willow Springs Race Track. On the way there we met up with a few more cars and enjoyed an hour cruise with a bunch of italian and european exotics.
L.G. Exotic Auto Transport, The official transporters for Lamborghini North America, brought their famous Lamborghini transport truck to display and to take back any cars which gave up at the track. At the track clients and friends of Speciality Car Craft, among them our friend Ashley van Dyke and other Gumball 3000 and Bullrun participants, enjoyed an open pitlane track day with hospitality. We had the pleasure of driving on Willow Springs back in 2007, its located at the bottom of a hill between Las Vegas and Los Angeles. Willow Springs is a fun little track right at the edge of the Mojave desert.
On the way to Willow Springs:
The track day at Willow Springs: