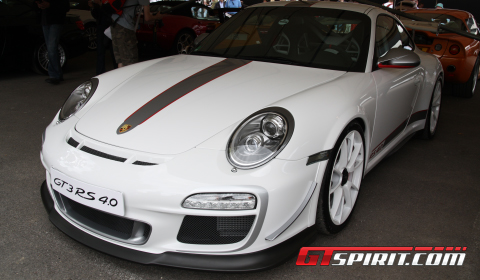 Slovenian exhaust specialist Akrapovic has released that their range of premium Porsche exhaust systems for the 3.8 liter GT3/RS are confirmed as 100 precent fitment on the brand new 2011 Porsche 997 GT3 RS 4.0 Limited Edition.
Akrapovic is the first third party specialist offering technical improvements for the last hoorah in the 997 line-up. The RS's overall performance, durability and sound track will be improved if you outfit an Akrapovic race-proven titanium system. A full overview of the five systems available for the GT3 RS 4.0 is available right here.
The Porsche 911 GT3 RS 4.0 is a limited edition of 600 cars that marks the nearing end of the Porsche 911 997 production. The 911 GT3 RS 4.0 makes it round the Nürburgring-Nordschleife in 7:27 minutes. The 911 GT3 4.0, available exclusively with a six-speed sports transmission, sprints to 100km/h from a standing start in 3.9 seconds, its gearing designed for the racing circuit taking it to the 200km/h mark in under twelve seconds. We had a closer look at the car during Goodwood 2011.
If you are wondering how one of the kits sound, check out the following video we made in Portimao, Portugal, a few months ago. The Evolution exhaust system with titanium tail pipes and rear carbon fiber lip was outfitted to a Porsche 911 GT3 MkII.