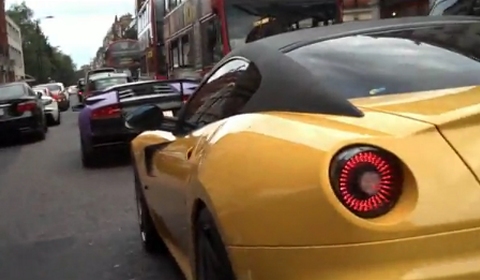 The Arab boy racers have not left London yet. They are still spotted and filmed by numerous car enthusiasts. The latest series of videos was made by Richard Williams, who has a special technique of filming the cars up close and personal from his bicycle tripod camera. Quite a "niche" in an already saturated market of high quality hypercar videos from London.
The story behind the first video concerns the Pagani Zonda Cinque regularly seen in London during the summer, which decided to tail a Lamborghini LP640 under Hydepark Corner tunnel. Rich tailed the Pagani on his bike thinking he was going back to his normal parking spot at the Dorchester Hotel but he decided to follow the Lamborghini – not visible in the video unfortunately – through the tunnel producing a cacophany of noise!
The Fab Design Mercedes SLS Gullstream White and Orange version were spotted before in Paris and London. Richard combined both in a single video. You choose; white or orange?
The final video shows Richard on his bike following numerous supercars over the last few years.