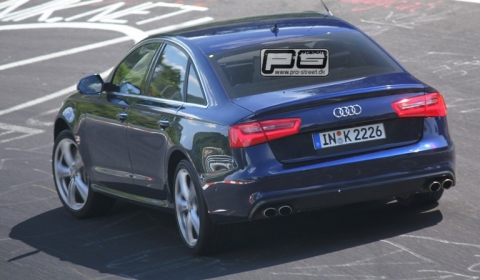 The first spy shots of the upcoming 2012 Audi S6 were posted on our front page in March. New shots were revealed via Danish website Pro-Street.dk and show the powerful German saloon car on the Nurburgring Nordschleife.
The 2012 S6 is expected to get Audi's upcoming 4.0 liter V8 engine, replacing the 435 horsepower V10 engine in the current 2011 S6 and a sportier front fascia, aerodynamic side skirts, and a four-tailpipe exhaust system.
We expect the S6 to make its debut at this September's Frankfurt Motor Show. The hot RS6 will come as much as a year later.