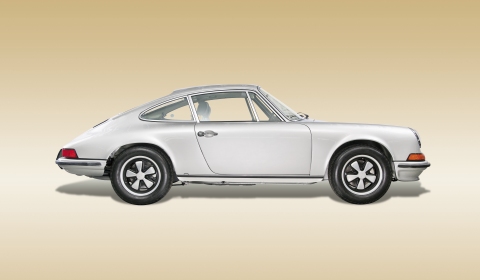 Thanks to the "Revive the Passion" project, a US version 911 T Coupe from the year 1973 is one of the main attractions at this year's Porsche Parade organized by the Porsche Club of America (PCA). As part of the festival week in Savannah, Georgia, from July 31 to August 7, the fully restored classic will be raffled off among PCA members and handed over to its new owner.
The winner can look forward to becoming the proud owner of a collector's item of great value, according to the German car maker. This is because the 911 T has been restored to its former glory by the experts at Porsche Classic in Stuttgart, where it was originally produced for the US market.
The idea for "Revive the Passion" was born during the "Rennsport Reunion" in Daytona in 2007. During a conversation, representatives of the PCA, Porsche Club Service and Porsche Classic took the decision to offer a Porsche classic car instead of a new vehicle in the traditional PCA raffle. A suitable car was found near Los Angeles and was subsequently presented to club members at the Porsche Parade 2010 in St. Charles, Illinois, in its then rather pitiful condition. The 911 T then went on a journey to Stuttgart, where the experts at Porsche took care of the vehicle.
The US version 911 T Coupe originates from the last year of production of the so-called F model. It features an air-cooled flat-six engine with a displacement of 2.4 liters and a power output of 140hp at 5,600rpm. Its top speed is 205km/h. This Porsche is characterized by its narrow body and is finished in the classic color combination Silver Metallic (exterior) and Black (interior).
The specialists received a vehicle without headlights or windows. The paint had peeled off and numerous parts, some even "home-made", were not from the original vehicle equipment. In addition, there were many defects in the interior. Nothing is known to the present day about the history of the vehicle and the long period out of service meant that the vehicle was clearly suffering from the ravages of time. The remains of bird's nests were even found in the underbody. Work on the 911 T took just under a year, from complete disassembly through to complete transformation.
Stay tuned for more from the Porsche Parade festival week at the end of this month.