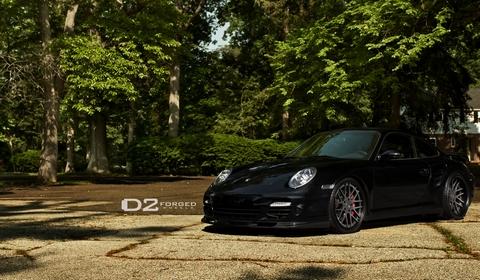 Tuning packages for the Porsche 911 series are an endless stoty. This time the guys from D2Forged came up with this twin-Turbo 997 outfitted with their very own Concave CV1 Wheels. By selecting the wheels, paint finish and size of the rims the D2Forged Twin Turbo was born.
The spokesman of D2Forged said:
With the concavity of the wheels being the major factor in the overall appearance of the whole project, we decided to go with 20×9.0 inch on the front axle, with an ultra aggressive 20×12.5 inch at the back axle, giving the car that unique look all Porsche fans enjoy. The combination of the Titanium Graphite finish, Matte Black lip and Matte Black Inner barrel, combined with the black exterior of the car, creates a unique combination and overall package that won't leave nobody without making an impression. These wheels are available in centerlock configuration, they accept OEM tire pressure monitors, and it clears GT2, GT3 and RS model brake calipers. Although this fitment is aggressive and considered "tuner", we can also configure the same package with a direct fitment application.