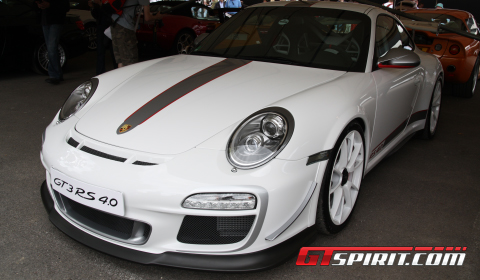 The Porsche 911 GT3 RS 4.0 celebrates its motor show debut at this years Goodwood Festival of Speed. The Porsche 911 GT3 RS 4.0 is a limited edition of 600 cars that marks the nearing end of the Porsche 911 997 production.
The 911 GT3 RS 4.0 makes it round the Nürburgring-Nordschleife in 7:27 minutes. The 911 GT3 4.0, available exclusively with a six-speed sports transmission, sprints to 100km/h from a standing start in 3.9 seconds, its gearing designed for the racing circuit taking it to the 200km/h mark in under twelve seconds.
Goodwood was the first time we could have an up close look at the GT3 RS 4.0. The limited edition 911 is painted white as standard. Specific characteristics are the wide track, the low vehicle position, the large rear wing with adapted side plates, the typical central twin tailpipe and the aerodynamically optimised body. The RS 4.0 shown in Goodwood has the special RS 4.0 decals and the center lock wheels finished in white.