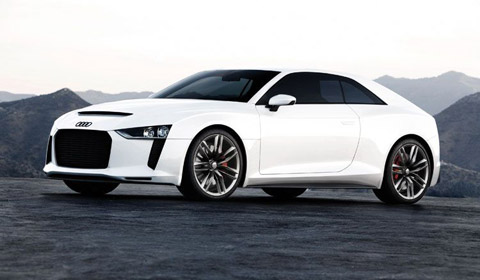 The future of the 408 horsepower, all-wheel drive Audi Quattro Concept will decided before the upcoming Frankfurt Auto Show in September.
According to InsideLine the head of development at Audi's Quattro Gmbh division, Stefan Reil is "optimistic" the car will be given the green light. Back in October we wrote that Audi was working on an engineering plan that will allow it to turn its Quattro Concept into a production vehicle. Also last April it was suggested this car had already given the green light, but now it appears this decision will be finally made.
According to Stefan Reil, the Audi Quattro Concept will be a small-volume exotic car with a production run of 500 to 1,000 cars. The targeted weight of the car will be 1,400kg (3,086 pounds). To make this possible, the production version of the Audi Quattro Concept will be made out of exotic materials like carbon fiber and aluminum. These materials would necessitate a high price and low volumes, but as Reil states there would be "no better way of demonstrating Audi's 'Ultra' lightweight technologies."
The engine of the Quattro will be derived from the RS5. But this engine will also need a major overhaul if it is to be successfully integrated into the aluminum chassis. Contrary to the transverse orientation of the engine in the RS5 and the R8, the Quattro's engine will also have to be mounted in a longitudinally orientation.
The RS5's 4.2 liter V8 puts out a 444 horsepower, about 36 more than the Quattro Concept's turbo five, but the Quattro would get even more power, as Reil said: "we need more power than the RS5".
Development of a production version of the Quattro will take two or three years, meaning a debut could be expected somewhere in mid 2013 or 2014 at the earliest.
Additionaly, Reil also confirmed that RS versions of the Adui Q-series models have already been ruled out. This is due to the high center of gravity afforded by the SUV platforms. But he refused to rule out an RS version of the A7: "We did two generations of the RS6 so why not do an A7." Considering the competition of the Mercedes CLS AMG we would be surprised if Audi would not develop a RS7.
[Via InsideLine]