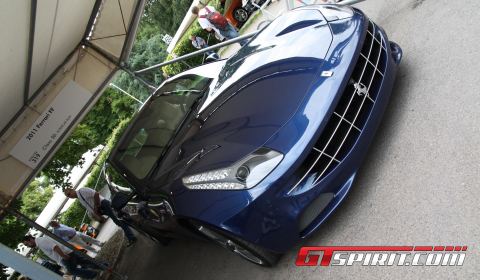 Ferrari took their latest luxury sports car to the Goodwood Festival in the UK. The 2012 Ferrari FF is part of the Supercar Paddock and is the first-ever four-wheel drive prancing horse.
The FF has a 6.3 liter V12 engine making 651hp at 8,000rpm with a maximum torque of 504lb-ft at 6,000rpm with 368lb-ft available from 1,000rpm. The engine is mated to Ferrari's patented 4RM four-wheel-drive system and a seven-speed transaxle dual-clutch F1 gearbox, allowing the Ferrari FF to go from 0 to 100km/h in 3.7 seconds with a top speed of 335km/h.
The vehicle was parked at Goodwood 2011 next to a Ferrari California and a Ferrari 458 Italia, which is the exact same vehicle used in the "MP4-12C versus the rest" reviews from CAR Magazine, Fifth Gear and EVO.