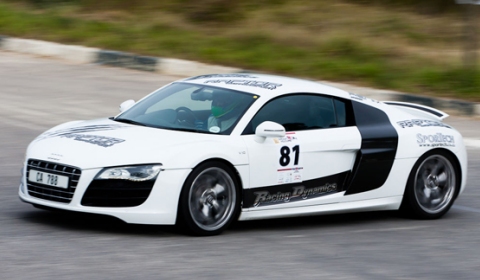 RENM performance, Racing Dynamics and Raptor Motorsport entered their Audi R8 V10 into the Knysna Hillclimb race, South Africa, as part of the Knysna speed week festival in May. Entering their Audi R8 V10 within the road-car class, the team qualified 12th outright, eventually winning the A3 class category in the competition.
The RENM, Racing Dynamics and Raptor Motorsport Audi R8 V10 achieved alead over other class competitors in qualifying. Driven by Andrew Waller, the team went on to win the Knysna hillclimb A3 road-car class quite comfortably.
The Knysna Speed Festival story began in 2009 with the running of the first Knysna Hillclimb. From the beginning the event exploded in 2010 and became part of the South African motorsport calendar. With the Hillclimb well established, the organisers developed the second phase of the Knysna Speed Festival by adding additional events to the programme, like the Knysna Motor Show, the Knysna Kart Grand Prix, Knysna Slot Car challenge, Knysna Soap Box Derby, and the Knysna Speed Festival Charity Golf Day.