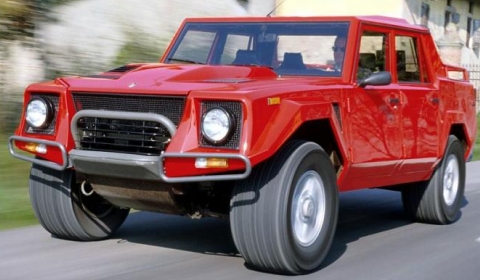 British motoring magazine Auto Express has discovered that Porsche and Lamborghini are about to join forces in developing a SUV for the Italian bull. Despite their differences, both companies are part of the Volkswagen Group and could benefit from each others experience.
In order to achieve Lamborghini's ambitions of developing a SUV and a 4×4, the Italians could use Porsche's existing expertise in this field. It is possible that the new Lamborghini SUV and the production version of the four-door Estoque will be underpinned by the platforms of the next generation Cayenne and Panamera.
The Germans could help Lamborghini to return to the high-powered SUV market. Its last offering was the V12-powered LM002 from the early Eighties. The LM002, also known as the Rambo Lambo was an unusual departure for Lamborghini which, at the time, was primarily known for high-performance grand tourers and sports cars. The LM002 is also the first four-wheel drive model manufactured by the company from Sant'Agata Bolognese.
The development of the four-door sedan and a SUV would give Lamborghini a competitive edge over its nemesis, Ferrari. One source explained to Auto Express:
Ferrari can't follow into this market, because it has no links to SUVs at all. Lamborghini is entirely credible as an SUV maker, but it can't do it alone. And as Porsche has shown it already knows how to do it, it makes sense to work together.
The CEO of Lamborghini, Stefan Winkelmann has repeatedly insisted that his company needs to build the Estoque if it is to grow globally – and this would be a real possibility if Lamborghini gets access to Porsche's latest GT architecture, which will also underpin the new family of Bentleys too.
According to the VW Group these developments won't dilute the brands:
There are significant synergies which benefit everybody, but Lamborghini's V12 supercars will always be protected, and done in house. That's sacrosanct.
[Via Auto Express]