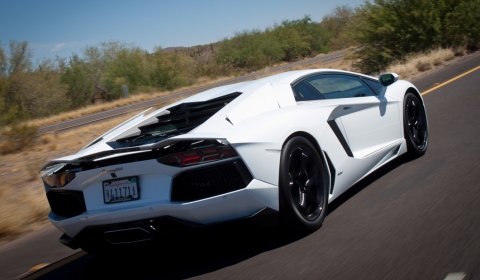 Supercars are expensive high end cars, but even the term 'expensive' is relative depending on the country you life. The Australian dollar is currently almost on par with the US dollar, for AU $ 1.0 you will get US $ 1.06. But the pricetag for supercars from overseas are not on par with other markets in the world.
For example, the Lamborghini Aventador costs in Australia AU $ 754,600 – which is more than twice the price you would pay for one in the United States. This is also an increase of 51 percent compared the price of a Lamborghini Diablo ten years ago. But ten years ago the Australian dollar was worth 64 US dollar cents, but we have seen this isn't the case anymore since the Australian dollar has climbed compared to other currency.
In contrast to cars, electronics like TVs and computers have all become more affordable for the people down under. Annoyed by the high prices of supercars one potential Lamborghini buyer, businessman Ra Hazouri has flat out refused to pay:
I was considering buying a Lamborghini Aventador but I've given up because I've discovered the dealers are blaming Italy [for the pricing] and the people in Italy are saying they have the right to rip us off because everyone else does it. They are doing it because they can – and they told me in an email that the price is 'locally positioned relative to competitors, product features and brand values'.
Lamborghini's South East Asia and Oceania sales manager Andrea Baldi argues that supercar prices cannot move along with exchange rates:
We have to ensure the price is fair compared with Porsche, Maserati, Aston Martin, Ferrari and other competitors. It's always a difficult balance. There are markets where you can be fairly profitable … Australia and the UK are opposite [in profitability] at this moment. It's difficult to finds a solution so that everybody's happy. We cannot simply play with the price [depending on currency changes] each year.
And not only the Lamborghini Aventador is much more expensive in Australia, the Ferrari 458 Italia is 14 percent pricier than the outgoing F430.
Meanwhile the luxury car tax is up, import tariffs are down and inflation has reduced the price of more mainstream models. In the table below you can see how the prices of supercars have soared the last decade.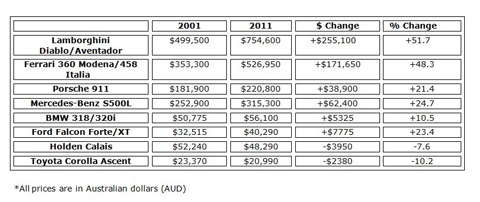 [Via Carscoop]