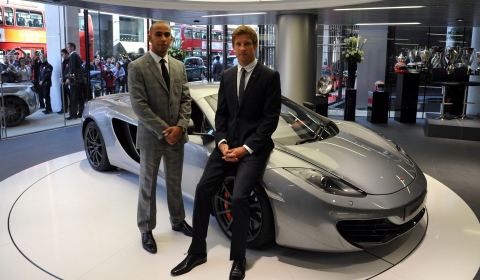 McLaren Automotive opened the doors to its first dedicated McLaren retailer, McLaren London, with a star-studded celebration at its One Hyde Park, Knightsbridge location yesterday. By the end of 2011, McLaren will have 35 bespoke retailers in 19 countries worldwide.
The opening was hosted by Vodafone McLaren Mercedes drivers, Jenson Button and Lewis Hamilton, and McLaren Group and McLaren Automotive Executive Chairman, Ron Dennis. Starting the launch of the global network of McLaren car retailers, and the arrival of the first McLaren sports car in the new century, the event also presented past McLaren track successes and two of Lewis Hamilton's race-winning Formula 1 cars.
Next to the opening the British sports car brand displayed a chrome McLaren MP4-12C just outside the new showroom. Check it out in the footage below.
McLaren anticipates expanding its global retail network to around 70 locations by the middle of the decade when the full range of cars is under production at the MPC in Woking, England: as the MP4-12C goes on sale, three further models or derivatives are currently already under development.
Next to that information by Autoblog.nl suggests that the brand new McLaren MP4-12C is completely sold out for the upcoming three years. The exact amount is unknown at this stage, but the number exceeds 3,000.