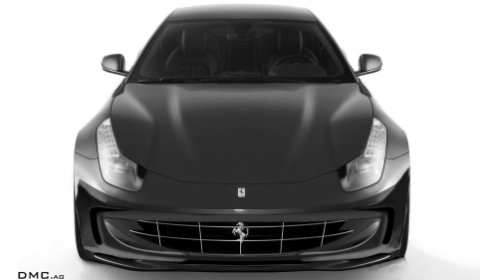 German tuner DMC has released their concept design for the Ferrari FF, calling it the Maximus. According to the Germans, the objective was clear: create a new sporty FF that could unite fans around the world.
To achieve this, the German tuners took the traditional Ferrari DNA in form of XX styled elements and paired it with DMC's design lines. The result is shown here. The body kit consists of two totally re-engineered bumpers, new side scoops and an aerodynamically improved rear wing. All naturally made of 100 precent carbon fiber.
The front fascia has been extended with a sharper longer nose. The rear fascia is now home to an aggressively XX styled rear diffuser and a heightened trunk spoiler that adds an sporty touch to the FF's new appearance. The sides feature some new air-scoops that support the braking system. The weight saving compared to the original parts is about 70kg.
The tuner plans to outfit the 6.0 liter V12 with twin superchargers, a new intake manifold, enlarged fuel injectors, high-flow air filters, a massive intercooler, and stainless-steel sport exhaust system with 90mm tailpipes. Thanks to these tweaks, DMC expects that output climbs to 876hp and 862Nm of torque – an increase of 225hp and 179Nm of torque. This could enable the car to accelerate from 0-100km/h in 3.2 seconds, 0-200km/h in 9.1 seconds, and onto a top speed in excess of 340km/h.
On the wheel front, DMC's FF will feature lowering springs, a front-axle lift up system, and lightweight wheels (which measure 21 inches front and 22 inches rear) with Pirelli PZero tires.