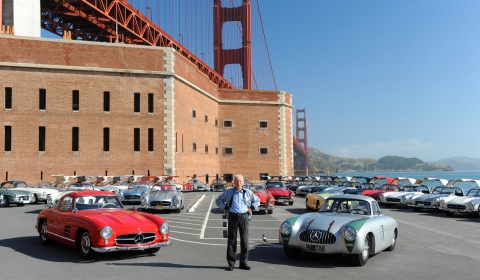 The Gull Wing Group reaches its golden anniversary and is marking the 50 year milestone with Mercedes-Benz USA by recreating one of the group's most famous photos taken in 1961 at Fort Point Park overlooking the Golden Gate Bridge in San Francisco, California.
Founded in San Francisco, California on June 16, 1961 The Gull Wing Group, led by Ernie Spitzer, was comprised of eighteen 300 SL Coupe owners. Currently over 600 driving enthusiasts dedicated to sharing their knowledge and enjoyment of the 300 SL belong to the Group.
On June 10, 2011 – almost 50 years after an original photo was taken to mark the beginning of the Gull Wing Group's existence – close to 100 members comprised of 24 Gull Wings and 14 Roadsters, were recreating the image by revisiting the very same spot in Fort Point Park, a National Historic Site run by the US National Park Service.