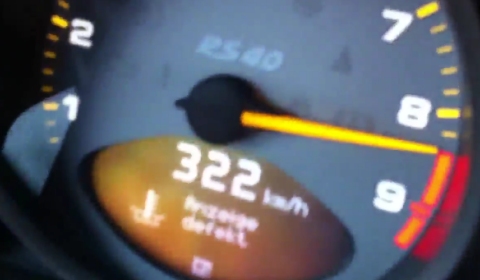 Werner Budding, a Dutch automotive journalist, has made a video clip of himself doing 322km/h in a brand new Porsche 911 GT3 RS 4.0. Don't worry, Werner was setting a new personal speed record on the German Autobahn. He picked up the brand new Porsche at the factory in Stuttgart for a drive to its new home in the Netherlands.
The last hooray of the 997 series has the most powerful normally aspirated engine ever to be fitted to a 911. It also features carbon body panels, an increased level of downforce and a revised suspension set up with uniball joints on the lower rear arms just like the 911 GT2 RS.
The 911 GT3 RS 4.0 makes it round the Nürburgring-Nordschleife in 7:27 minutes. The 911 GT3 4.0, available exclusively with a six-speed sports transmission, sprints to 100km/h from a standing start in 3.9 seconds, its gearing designed for the racing circuit taking it to the 200km/h mark in under twelve seconds. Top speed? 322km/h!