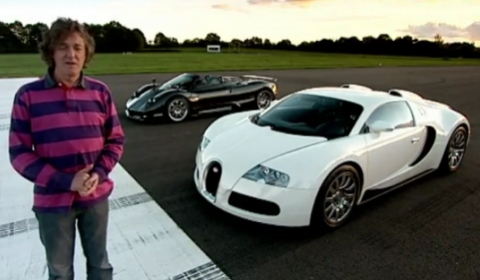 Ahead of the start of Season 17 we bring you a series of videos showing Top Gears best hypercar drag races. The first video shows James May on the Top Gear test track reviewing the £ 825,000 Pagani Zonda F Roadster. The fastest ever Zonda – at that time – was also put against the storming speed of the Bugatti Veyron in a drag race.
Take a one-mile stretch of road in Abu Dhabi and the two fastest road-cars in the world and what do you get? The ultimate drag race is the answer as Richard Hammond in a Bugatti Veyron takes on the Stig in a McLaren F1.
Amazing challenge as Richard Hammond races a Euro Fighter Typhoon in the Bugatti Veyron. Who will win the horizontal vs vertical two mile race?