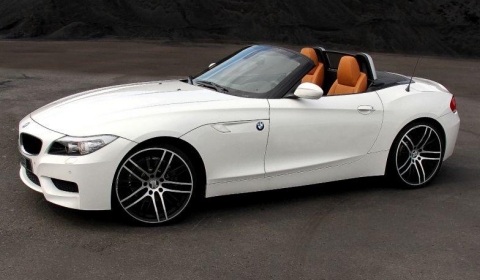 Kelleners Sport has released their program for the BMW Z4 sDrive35is. The German specialist increased the performance of the twin-turbo straight six engine to 405hp and 539Nm.
New design elements give the interior of the BMW Z4 by Kelleners Sport a sporting and youthful look. They include carbon interior fitments, a three-spoke sports steering wheel, aluminium pedals and footrest and velour foot mats. The saddlery department can individualise the entire interior in accordance with his or her requirements. Woods, leather and embroidery can be outfitted, according to the Germans.
New springs lower the Z4's center of gravity by 20mm at the front axle and 10mm at the rear. The sporting look of the two-door sports car is underscored by the choice of a wheel / tyre combination in the dimensions 19 or 20 inch and widths of 8.5 / 9.5 and 9 / 10 inches respectively. Customers can choose between two models, 'Hamburg' or 'Berlin', each of which is available in three different surface finishes.