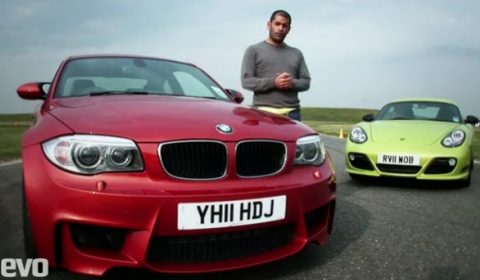 EVO has put BMW's baby M Car into battle with the most potent mid-engined Porsche on sale. It's the 1-Series M Coupe versus the Porsche Cayman R, with Chris Harris behind the wheel of both.
The 1M Coupe comes with a six-in-line twin turbo engine creating 340bhp together with 450Nm of torque. The power is derived to the wheels via a manual six-speed clutch making a sprint from standstill to 100km/h (62mph) possible in just 4.9 seconds and reach a topspeed of 250km/h (156mph) in about 30 seconds.
The Cayman R comes with a tuned-up 3.4 liter six-cylinder engine developing 330hp (243kW). In the standard configuration it transmits its power to the rear wheels via a six-speed manual gearbox that propels the car from 0 to 100km/h (62mph) in 5.0 seconds. You can also get a seven-speed Porsche Doppelkupplungsgetriebe (PDK) that reduces its acceleration time to 4.9 seconds. The Cayman R can be supplied with one of the optional Sport Chrono packages, taking it to 100km/h (62mph) in 4.7 seconds. The new mid-engine coupé is capable of a top speed of 282km/h (175mph) with manual gearbox, or 280km/h (174mph) with PDK.
Check out the footage below for the final verdict by Chris.