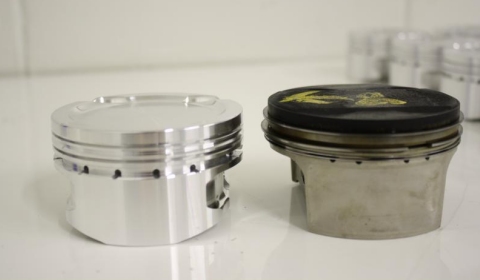 Chapter three of our story of the Lamborghini Gallardo SE Twin-Turbo Project by US tuner Bradan covers the development of new connecting rods, pistons and engine sleeves. The story follows part one and two we released over the past few days.
The power goals are relatively conservative, so Bradan decided to re-engineer all engine internals for increased strength for long term durability. The connecting rod beam was changed to a forged 4330 H-beam design. Two holes were machined in the rod end for pin oiling. Hardware was upgraded to a 285,000 ksi rated fastener. Bradan has used forged pistons made to lower the compression ratio to 9:1.
The engine sleeves is one of the many items that they are redesigning and manufacturing to reinforce the internals of the engine. With a full aluminum block construction, they were concerned about the extra stress forced induction would create. They designed cast iron cylinder sleeves to reinforce the cylinder walls. The block is going to be machined to remove material which will allow these sleeves to be pressed inside.
Check out the pictures for a more in-depth look.