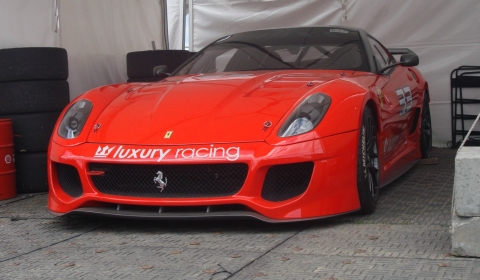 One of our readers came across this red Ferrari 599 XX at Le Mans 2011. The exclusive prancing horse was parked somewhere in a tent and is part of Luxury Racing.
The 599XX is powered by an upgraded 6.0 liter V12 which provides 700 horsepower at 9,000rpm. To make this car more suitable for the track, the engine and body received massive weight savings while via improved aerodynamics the downforce was increased.
The Ferrari 599XX has completed the Nordschleife circuit at the in a time of 6 minutes and 58.16 seconds – the second fastest time ever recorded for a production-derived sports car at the time.