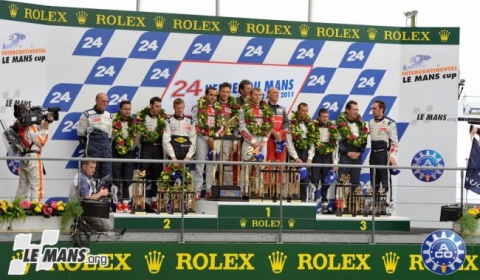 Last weekend, Audi managed to win the Le Mans 24 Hours sportscar race for the 10th time in 12 years yesterday, with Germany's Andre Lotterer taking the chequered flag. In front of 250,000 spectators and millions in front of their TVs, Marcel Fassler (Switzerland), Andre Lotterer (Germany) and Benoit Treluyer (France) took their Audi R18 TDI to victory, taking the first place from Peugeot.
The Audi R18 TDI with number "2" won by 13.854 seconds in the fourth-closest finish in the race's 79 editions. On the 229th race lap, Andre Lotterer managed to beat the fastest time of 3m 25.289s, which was set in qualifying. The racer performed perfectly the entire race, according to the German car brand. The car never had to come to the pits, aside from the regular scheduled stops.
The number nine Peugeot driven by Simon Pagenaud, Sebastien Bourdais and Pedro Lamy finished second with the French manufacturer's cars also finishing third, fourth and fifth at the Sarthe circuit. The third-placed number eight Peugeot, driven by Nicolas Minassian/Stephane Sarrazin and Franck Montagny, finished two laps behind the leading pair.
Even though Audi won the race so close, the race was characterised by horrific crashes that triggered five safety car interludes. First was Allan McNish who went out in the first hour when he clipped a slower Ferrari 458 GT2, skimmed across the gravel and slammed hard into the barriers with the car almost leaping over them. His Audi R18 racer hit the barrier and rolled over. Allan was not injured.
Rockenfeller then wrote off the number one R18 TDI when he hit another Ferrari after sunset while travelling at full speed on the fast stretch leading to Indianapolis with eight hours gone. The German was kept in hospital overnight.
The safety car was deployed twice more in the early hours after more crashes including an accident between a Corvette driven by Jan Magnussen and the Porsche 911 of Christian Reid.
But also due to an accident where a Ferrari 458 GT2 had a blown rear tire and flipped upside down. The final wreckage is visible in the exclusive pictures below.
Corvette #73 driven by Olivier Beretta, Tommy Milner and Antonio Garcia completed 314 laps in the 24 hours and finished 11th overall and first in the GTE Pro class. It finished in the class 2 minutes and 29 seconds ahead of the runner-up Ferrari. It was the 7th class win at Le Mans for Corvette Racing and its first in GTE Pro.
A total of 56 cars started the 79th edition of the French endurance race, but 28 did not finish.