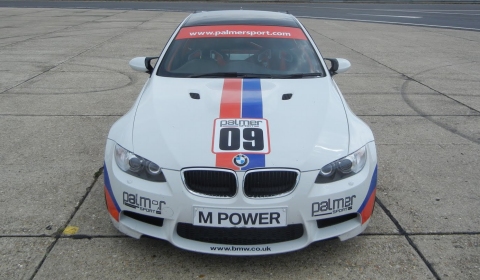 One of our GTspirit members and readers is Alexotics. He released a video of himself driving a BMW M3 GTP around Bedford Aerodrome. On his blog he stated:
The car I drove was dubbed a BMW M3 'GTP', P standing for Jonathan Palmer (ex-F1 driver) or PalmerSport edition. What they've done is taken a stock E92 M3, fiddled with only the aerodynamics – read big spoiler -, interior, and fuel tank. The GTP runs on LPG, which doesn't affect the performance, saves the environment, but basically turns the car in to a V-1 buzz bomb on 4 wheels. The interior is now home to a full roll cage, BMW Performance seats, 5-point harnesses, a lap timer, a kill switch, fire caution button, larger steering wheel shift pedals, and alcantara everything. And what can I say. It sounded phenomenal, it drove like mad, and it handled like nothing I've ever even dreamed about. What's happened now is that I want one more than any car I've ever wanted before. And not one to parade about in. To drive. Flatout. On a track.
You can read more about Alexotics via his blog.