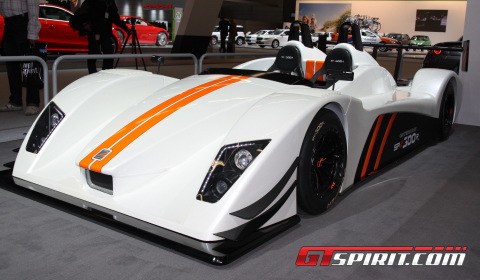 The development of the new Caterham SP/300R has been finished over the past period. After our initial close-up at the AutoRai 2011, the British carmaker is now ready to give potential owners their first taste of the prototype-racing car.
The dates of the customer trials has been set on Saturday, August 27 at Donington Park; Wednesday, September 7 at Donington Park; Thursday, September 15 at Snetterton; Wednesday, September 21 at Donington Park.
Customers who have already placed an order for the SP/300R will be given priority booking slots, after which the extensive list of people who have registered an interest with Caterham will be offered one of the strictly limited drives.
The brand new Caterham model is a true racing car weighing only 450kg. The Caterham uses a supercharged 300bhp Ford Duratec engine connected to a semi-automatic gearbox with an overboost button providing up to 350bhp.
Lola have taken responsibility for the chassis design. The SP/300R features an aluminium tub with a longitudinally mid-mounted engine coupled to a stress-bearing rear transaxle. Downforce is applied through the use of a flat underbody, front splitter and large rear wing.