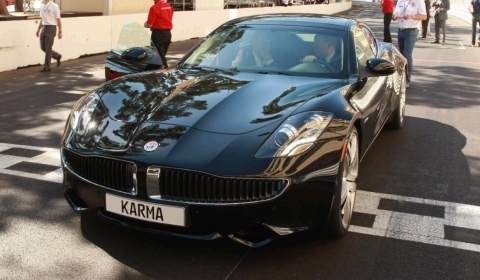 Visitors to the Formula One Monaco Grand Prix, were among the first to see the first Fisker Karma off the production line put through its paces as it made its European driving debut on the street circuit last weekend.
Before official race qualifying began, the first European production version of the Fisker Karma, took to the streets of Monaco, completing a couple of laps. The vehicle was piloted by Albert II, Sovereign Prince of Monaco, who was joined by company co-founder, CEO and executive design director, Henrik Fisker.
The Fisker Karma drives its rear wheels using two rear-mounted 201.5 horsepower electric traction motors that draw energy from the lithium-ion battery pack for up to 80km. The gasoline engine drives a 175kW electric generator to power the motors. There is no mechanical link between this engine and the drive motors.
The luxury sports car can run in one of two drive modes: Stealth and Sport. Stealth Mode maximizes efficiency, giving the car its greatest range on battery power before activating the gasoline engine-driven generator to sustain battery charge. In Stealth Mode, the Karma can accelerate from zero to 100km/h in 7.9 seconds and achieve a top speed of 153km/h. With Sport Mode engaged, the gasoline engine drives the generator to provide enough electricity for 403 total system horsepower, allowing the Karma to accelerate from zero to 100km/h in just 5.9 seconds and achieve a top speed of 201km/h.
It is Fisker's plan to deliver vehicles to all current deposit holders during the 2011 model year. The first dealer and customer cars will arrive in the US in July, which is additional delay. The Karma model line-up was expected to reach Europe in April, but looking at the current pace of deliveries and production it will take at least until September before we will see the first vehicles hit European roads.