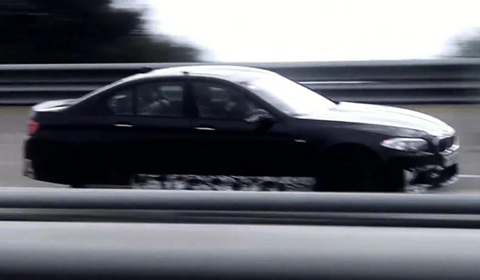 Once again BMW has presented a teaser of the upcoming 2012 BMW F10 M5. In this video we can see the new M5 doing some high-speed testing at the Nardò Ring.
The Nardò Ring is a 12.5 kilometers (7.8 mi) long and perfectly round high speed test track located in southern Italy. High speed testing is an important part of the development program for the new BMW M5. As we have seen before, the Germans are testing the engine, suspension and transmission under the most extreme conditions.
The upcoming M5 will be powered by an updated version of the S63 engine found in the BMW X5 M and X6. This 4.4 liter twin turbo V8 is said to deliver 575 horsepower and approximately 720Nm of torque. Thanks to all kind of innovations the fuel consumption and emission levels will be down by more than 25 percent.
The new BMW M5 will be officially unveiled at the M Festival during the 24 hours race at the Nurburgring which takes place between June 23 and 26th, 2011. At this event the M3 EVO will be officially introduced as well.
The M5 will enter the market in early 2012 and it is rumored to have a base price around $ 100,000 mark.