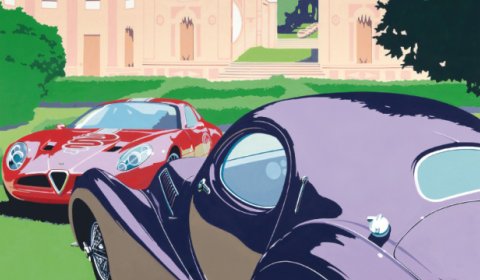 The Concorso d'Eleganza Villa d'Este event near Lake Como, Italy, gives us petrolheads a rare opportunity to see unique prototypes and sports car models in close proximity. The event will be held at the end of this month on the weekend of 20 – 22 May 2011 at the grounds of the Grand Hotel Villa d'Este and neighbouring Villa Erba in Cernobbio. GTspirit.com will be at the event for a full coverage.
The following vehicles are starting in this year's competition; Ferrari Super America 45 (2011), Audi Quattro Concept (2010), Mercedes-Benz Concept Shooting Break (2010), Infiniti Etherea (2011), Italdesign Giugiaro Go! (2011), Rinspeed BamBoo (2011), Renault DeZir (2010) and the Scuderia Cameron Glickenhaus P4/5 (2011). The winner will be awarded a Concorso d'Eleganza Villa d'Este Design Award.
One vehicle mentioned in the list is rather special. The Ferrari Super America 45 is a bespoke convertible created by the Italians for a wealthy New Yorker. Rumours state the open-top sports car is outfitted with a 6.0 liter six-cylinder engine. It will make its official debut at Villa d'Este 2011.
Following the launch of the event for invited guests in the grounds of the Grand Hotel Villa d'Este on Saturday, the Concorso gives all car and motorcycle fans an opportunity to see all the vehicles in the park of Villa Erba on Saturday and Sunday. In addition to the cars and motorcycles already presented on the previous day, there will be numerous other high-end classics on display in special exhibitions.