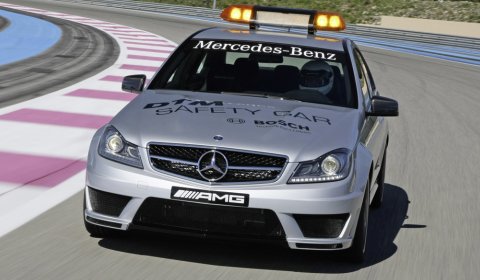 The new C 63 AMG is being used as the Safety Car for the 2011 DTM season. Following the DTM presentation in Wiesbaden on 10 April 2011, the new Safety Car will make its debut on 1 May 2011 at the opening race of the German Touring Car Masters season at the Hockenheimring in Baden-Württemberg.
The V8 Sports Saloon only had to be modified slightly for its demanding DTM task. Responsibility for development and production of the C 63 AMG Safety Car was entrusted to the specialists in the AMG Overall Vehicle Development department and the AMG Performance Studio.
Piloted by racing driver Jürgen Kastenholz, the C 63 AMG Safety Car has the job of ensuring maximum safety for the racing drivers and spectators in the event of dangerous situations such as extreme weather conditions, accidents or other incidents.
The AMG 6.3 liter V8 engine has an output of 487hp and a peak torque of 600Nm. The increase in output versus the standard 457hp engine is due to the AMG Performance Package, which is optionally available for any C 63 AMG model and enables the car to accelerate from 0 to 100km/h in 4.3 seconds.