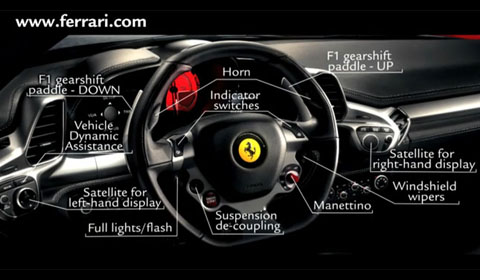 The Ferrari 458 Italia provides not only impressive performance figures, the high-tech equipment in the car impressed many as well. Some people are so impressed with all the complexity of all these gadgets that Ferrari made a video to explain how the 458 works.
Thanks to its extensive Formula 1 expertise, Ferrari put most of the car's control on the steering wheel. These include the engine start button, gearshift paddles, Manettino switch, suspension de-coupling, indicator switches, windshield wipers, long beam, audio volume, track selection system and off course the horn.
Watch the video below to discover how Ferrari explains the complex commands' ergonomics of the 458 Italia.