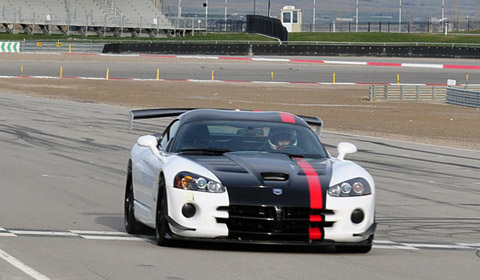 The Dodge Viper ACR set another track record. Dodge Motorsports brought a 2010 Viper ACR to Miller Motorsports Park in Tooele, Utah. The car was driven by Kuno Wittmer who smashed the lap record by nearly four seconds. The previous record was set by Jan Magnussen in a Corvette ZR1 who drove the track in 2:03.86, but Witmmer and his Viper ACR managed to do it in just 1:59.995.
The isn't the first time the Viper ACR has broken a track record for a production car. Back in August 2008, a Viper ACR drove around the famous Nürburgring in 7:22.1 and one year later the same car set a new record in Laguna Seca with a time of 1:33.92.
The Viper ACR is powered by a 8.4 liter V10 engine with 600 horsepower and 785Nm (560lb-ft) of torque. This enables the car to do the 0-100km/h acceleration in less than four seconds while the top speed is 296km/h.