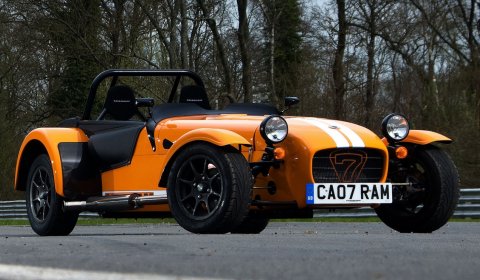 Caterham officially revealed the new Seven Supersport. The version is purest yet available and derived from the Caterham Supersport racing series featuring all the essential performance parts of the track car.
Caterham Seven Supersport is powered by a 1.6 liter Ford Sigma engine developing 140bhp, which is mated to a five-speed manual transmission with "sprint" ratio gearing. Additionally, you will get a lightweight flywheel, race-tuned suspension system, 13 inch wheels and CR500 Avon tires. Caterham used the following parts from the racer; springs and dampers, limited slip differential, stiff anti-roll bars, and track biased dashboard with integrated change up lights and an aero screen.
The total weight of the vehicle is only 520kg. The Supersport is able to accelerate from 0 to 100km/h in 4.9 seconds. Its top speed is rated at 193km/h.
Two versions are available. You can get the Caterham Seven Supersport for £ 19,995, but then you have to put it together at home. The factory version is priced at £ 22,995.