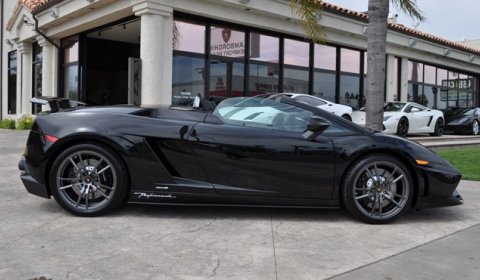 Lamborghini Newport Beach hosts the local Orange County unveiling of the all new Gallardo Bicolore and Spyder Performante at their showroom in Costa Mesa, US. The unveiling is this Friday and Saturday for potential buyers.
Both Gallardos were revealed over the past months. The Gallardo LP 560-4 Bicolore is a special edition of the Gallardo LP560-4 and will be available in the European and Asian-Pacific markets. In North America the Bicolore will only be available as a Gallardo LP550-2 Bicolore. The special series features an exclusive two-tone finish with matching interior, and offers a full range of standard equipment. A refined contrast between the black roof and the color of the rest of the body is available in a choice of five shades.
The Performante is the roadster version of the LP570-4 Superleggera. Tthe lightweight of the Spyder Performante is due in large part to exterior and interior components made from carbon fiber. The V10 power unit with a displacement of 5.2 liters generates 570hp (419kW). It catapults the open-top LP570-4 from 0 to 100km/h (0-62mph) in a mere 3.9 seconds and keeps on going to a top speed of 324km/h (201mph).
The first three videos of the Performante have already been dropped onto the web.
[Via L4P]