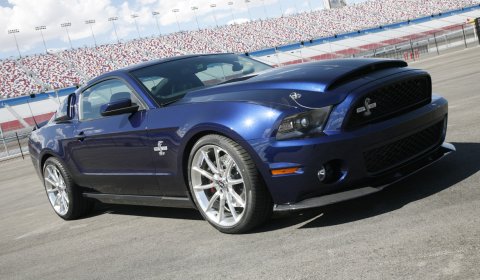 Shelby American will unveil its new Super Snake package for the 2012 Ford Shelby GT500 at the New York International Auto Show. With 800 horsepower, it will be the most powerful American muscle car introduced at the show. In addition to the Super Snake, Shelby American will also display the limited edition 2012 Shelby GT350 coupe and convertible.
Born on the drag strip and road course of Las Vegas Motor Speedway, Shelby American and its partner Ford Racing, created a suspension and engine package heavily improves the base vehicle. Even more power is available for the 2012 model year. There will be a limited production of Super Snakes available to customers starting May 1, 2011.
The complete package offers a Ford Racing handling pack including dynamic adjustable dampers, lowering springs, tuned stabilizer bars and front strut tower brace, but also an optional Shelby / Eibach handling pack, six-speed manual transmission with 3.73:1 rear axle ratio and short-throw shifter. The standard tune upgrades power to over 750hp and 590lb-ft of torque. A Borla exhaust system, Shelby-designed Alcoa 20-inch wheels in durabright or anthracite and forged Shelby / Baer brakes with six-piston calipers and cross drilled / vented rotors are also available.
The exterior design of the Super Snake includes a fiberglass hood featuring classic Shelby design and pins, Shelby signature Super Snake stripes in either matte black or matte white, "Super Snake" vehicle badges and official Shelby CSM interior plate and "Shelby" lettering across the rear deck lid.
On the inside you can get optional two tone leather interio, Shelby signature embroidered headrests, floor mats and other Shelby designed components.
The new Super Snake generates 800 horsepower on pump gas. The muscle car is legal in 50 states and swaps owner for under $ 100,000; this includes the Shelby Super Snake package and the GT500 base vehicle.