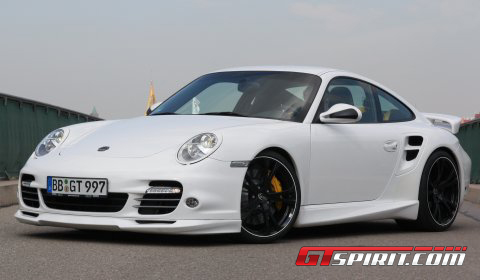 German tuner TechArt has released two performance packages for the current Porsche 911 Turbo. The programs includes ECU upgrades, sport air filter and the new sport exhaust with twin tailpipes in glossy chrome with embossed TechArt logotype.
The power kit TA 097/T1 offers 70hp and 80Nm compared to the series model. The Porsche 911 Turbo accelerates with the power kit TA 097/T1 to 100km/h in 3.2 seconds. The boost in performance is made possible by optimized engine control and the use of the Sport air filter.
In 2.9 seconds from 0 to 100 km/h. The power kit TA 097/T2 produces 620hp as wall as a maximum torque of 820Nm. The engine conversion involves the installation of the sport air filter, the manifolds and the sport exhaust system. All modifications are perfectly attuned to each other via the reprogrammed engine management.
To give you an idea of the sound production TechArt offered us two sounds files which you can download or listen to.
Audio file: TechArt 911 Turbo Start
Audio file: TechArt 911 Turbo Passing By