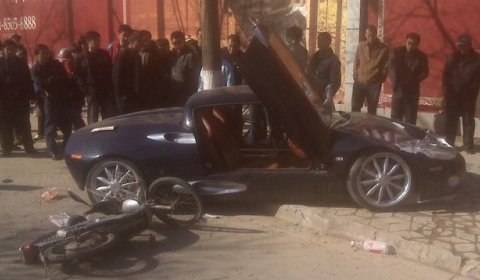 One of our GTspirit forum members came across the following car crash that happened in Shijiazhuang, Hebei Province in China. The sports car involved was a dark blue Spyker C8 Spyder.
The driver of the Dutch sports car lost control of the car and stopped eventually on the pavement. The pictures show that before it reached its final destination the vehicle hit a bus stop and a motor cycle.
Our Chinese has not reached a certain level yet, which provides us with answers with respect to the cause of this crash. You are of course allowed to guess and suggest any possible cause.
[Via Club.speedycars.com.cn]