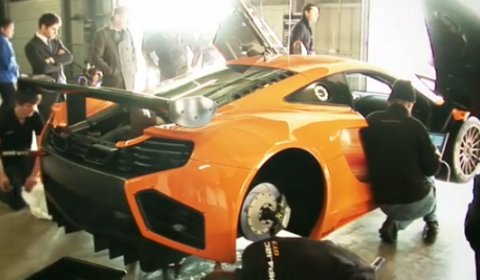 Evo Magazine got an exclusive access to the new McLaren MP4-12C GT3 racing supercar at Silverstone in the UK. The HD footage of the stunning orange car shows some shakedown tests.
The racer is powered by the same 3.8 liter twin turbo V8 engine linked to a new bespoke paddle-shift system and an all-new Ricardo-designed gearbox. Additionally, the MP4-12C GT3 comes with new electronics, Akebono brake calipers and a Bosch Motorsport ABS.
The aero package of the GT3 includes a new front splitter, door blade, diffuser, rear wing and louvers in the front fenders. The engineers also replaced the proactive Chassis Control System of the standard MP4-12C with race-specific roll bars and dampers due to regulations.