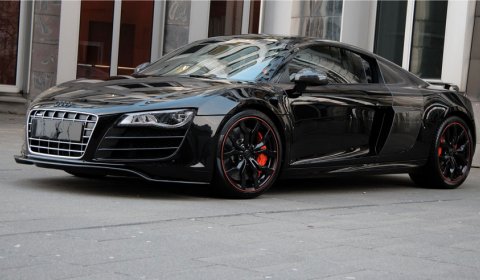 Anderson Germany from Dusseldorf is back with a new project. The Audi R8 Hyper Black Edition is the latest in their extensive line-up.
The performance of the 5.2 liter engine producing 525hp was increased up to 8,700rpm, 589hp and accordingly grown torque. The power increase has been achieved through the Rennkats exhaust system saving 22kg of weight, a software optimization, and air filter modification. The exhaust path has a remote-controlled valve adjusting system that lets the driver opt from three different levels of noise.
Among external and thus visible changes, there are carbon-coated 19 inch rims painted in body color with edging in Racing Orange style. Through the rim, the brake caliper is visible, painted in Racing Orange as well. On the other hand, there is a carbon exterior package with parts like the front spoiler lip, rear spoiler, the rear diffuser and the mirror caps. All windows and rear lights were tinted. The paint job is called Hyper Black. This paint gives the R8 V10 somewhat a black soul, according to the German tuner.
The interior finish with matte black carbon fiber leather is combined with orange Alcantara.The carbon interior package includes the handbrake handle, the radio visor, the ashtray, the handles of the seat adjustment, door panels, and the side panels of the center console and shifter surround. The sports steering wheel was additionally enhanced with visible carbon.