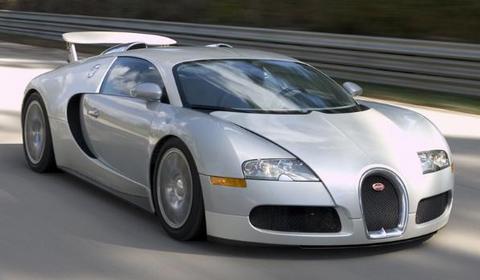 For many supercar enthusiasts, owning a Bugatti is a dream. But with a price tag of € 1,000,000 excluding taxes actually owning a Veyron is only for a small group of people within reach.
The initial price to buy it is just the start. After you receive the keys you will be forced to think about insurance, service, wear and tear and depreciation. The normal service of a Veyron is a routine annual maintenance that costs the owners € 15,000. In comparison you can service your Ferrari Enzo eight times in a year for the same price. The routine maintenance includes a check of all fluids, but is primarily an inspection of the car to ensure it can continue to withstand the pressure of speeds up to 400km/h.
Second you will need a new set of tires which are quite expensive at € 23,800 a set every 4,000 km. Even worse is the expected cost of € 36,000 every 16,000 km for a new set of wheels on top of the tire costs.
And you will also have to insure your Veyron and in many countries you have to pay road tax. The insurance alone can be € 2,800 a month! Despite the high maintenance and insurance costs you can be proud to drive one of the most expensive and exclusive cars on the market today.
[via SecretEntourage]