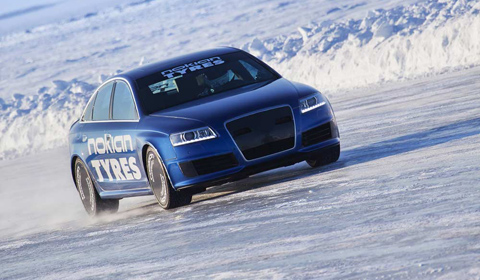 The Bentley Continental Supersports Convertible Limited Edition has been released at Geneva to celebrate the British world speed record on ice. Finland's four-time world rally champion Juha Kankkunen drove the Bentley off the coast of Finland, at a top speed of 330.695km/h (205.48mph). But now this record has been broken already even before the celebrating convertible hits the production line!
The new world record for fastest car on ice was set by Nokian Tyres' test driver Janne Laitinen who drove an Audi RS6 to a top speed of 331,610km/h (206,05mph) on the Gulf of Bothnia in Oulu, Finland. The record was broken on March 6th on a 14 kilometer ice track in freezing conditions.
How important tyres are is emphasized with the record. Tyres are the vehicle's only contact point with the driving surface. When driving at exceptionally high speeds on slippery ice, the tyres must provide maximal grip, structural durability and handling properties that are in line with the car's high power. When a car moves at a speed of 331km/h, the car covers over 92 meters in one second. The tyres are under immense pressure at these high speeds, and their diameter can increase by 15–20mm. As the air resistance increases, more traction is needed in order to pick up speed.
The Guinness World Records organization outlines detailed rules for ice driving world records. The time for the one-kilometer distance is taken for driving in both directions of the track, and the world record time is the average of these two results. The vehicle takes a flying start. There is a total of one hour to complete the record attempt. The ice has to be natural and it may not be roughed up or treated with any chemicals. The tyres must be commercially available and approved for road traffic in the country in which the record attempt takes place.
Nokian Tyres is the world's northernmost tyre manufacturer and the only one in the world that focuses on products and services that facilitate safe transportation in Nordic conditions. Therefore, Nokian operates the only permanent winter tyre testing facility in the world in Ivalo, 300km north of the Arctic Circle. They developed the world's first winter tyre for raw, subzero conditions back in 1934. Two years later, it introduced the Hakkapeliitta, designed for northern winters and the record-breaking Audi was equipped with Nokian Hakkapeliitta 7 studded tyres. We wonder, would Bentley strike back?