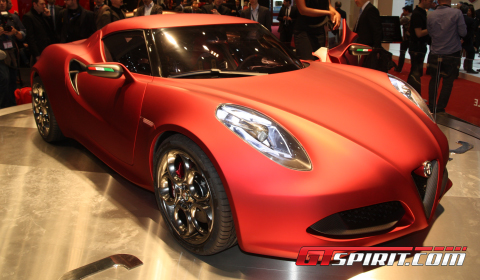 Alfa Romeo unveiled the 4C GTA Concept at the 2011 Geneva Motor Show. Now it seems this car will be joined by an open version and will enter the American market.
The CEO of Alfa Romeo, Harald Wester indicated that the 4C GTA could make it to the United States. This car will be the driving force in the long-awaited return of the Italian marque to the US where the 4C could be sold alongside the Fiat 500 at new dealerships which are currently being set up.
The compact 4C GTA is made out of carbon fiber and aluminum, resulting in a weight of below 850kg. Powered by a 1.8 liter engine which develops 265bhp this new rear-wheel drive and mid-engined sports car will be quite fun to drive. The top speed will be 250km/h and a acceleration from 0 to 100km/h should be done in five seconds.
The 4C is planned to be on sale by late 2012. With a expected price tag of € 42,000 ($ 60,000), the Alfa Romeo 4C aims at the Porsche Cayman and Lotus Elise. Production of the 4C will be limited, with only around 15,000 to 20,000 cars planned over five years for worldwide sale.
Alfa Romeo is also planning to build 5,000 to 10,000 roadster versions of the 4C, which could be named the 4C Spyder. This version will be built by Abarth, the official motorsports and tuning division of Fiat. Even more interesting are the rumors of an even more performance orientated 4C Abarth.