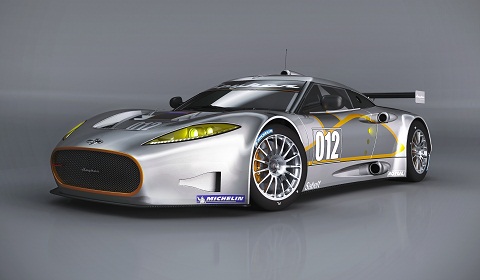 Word has got to us about Spykers plans for a new C8 Aileron GT Racer that may be due to premiere in Geneva over the next few days. Based on Spyker's new flagship C8 Aileron, the new GT racer will be designed and developed to ACO's new GTE specifications and will be ready for the start of the 2012 motorsport season.
Spyker Squadron will be taking a sabbatical from its racing duties this year to develop the car. Managing Director, Peter van Erp, said:
We are taking a racing sabbatical this year to concentrate our resources on developing a new GT racer based on Spyker's new C8 Aileron supercar, instead of continuing to spend money on a car at the end of its development cycle. For the long term future of Spyker Squadron, and for its role in the promotion and technical development of Spyker road cars, it's a positive and strategically important step.

We will develop the car for the new GTE class, although after its first season we will assess whether there is sufficient demand to develop a variant to FIA GT3 specifications. This would be relatively straightforward and would increase the potential customer base for the car and associated race support package. We are already attracting customer race teams wishing to buy an off-the-shelf car, with enquiries arriving from Europe and the Far East.

Ultimately, our fans can look forward to a very exciting long term future following Spyker in top-flight endurance racing, with both the Spyker Squadron and customer racing teams fielding C8 Aileron GT cars. And as a result, Spyker will become an even more prominent and successful name in endurance motorsport around the world in 2012 and beyond.

The Spyker C8 Aileron GT racing car will take over from Squadron's C8 Laviolette GT2R racer, with which Spyker's race division enjoyed three years of competitive European GT endurance racing. In 2009, the C8 Laviolette GT2R delivered Squadron's most successful season, claiming two second-place GT2 class finishes in the Le Mans Series, and scoring an incredible fifth place in the gruelling 24 Hours of Le Mans.
Were still not 100% sure that we will see the car in Geneva but we'll keep you updated, until then, enjoy the pictures.