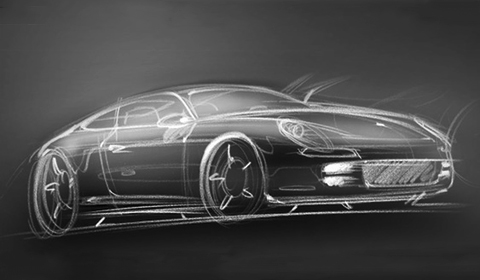 The Porsche 928 was a sports-GT sold from 1978 to 1995. The world never saw a successor, the 928 has been set aside, but not forgotten.
Once in a while we hear rumors about a new Porsche GT based on the Panamera platform. Matthias Mueller, the new CEO of Porsche, has now confirmed that the German car maker is currently investigating the options to build a model known as the Porsche 928/929.
In an interview with Automotive News Europe, Mueller was asked when we will see a supercar positioned above the 911 – the so called Porsche 929. The Porsche CEO replied:
Theoretically, there is indeed still some space there. A 911 GT2 RS costs about €220,000 ($296,960). The 918 Spyder will be significantly more than that. Between the two there is still a gap where Italian competitors are currently very active. We are investigating that as an in-house project. We will make a decision by the middle of the year.
The new coupé will be positioned further away from the Boxster, Cayman and 911 ranges and will compete with the likes of the Maserati GranTurismo, the new Ferrari FF or the 599.
In the same interview Mr. Mueller stated that the Panamera will be given an even more sporty look and that they are working at a plug-in hybrid having its official release in Geneva next week and a long-wheelbase version. It is clear that Porsche is full of plans and ambitions.