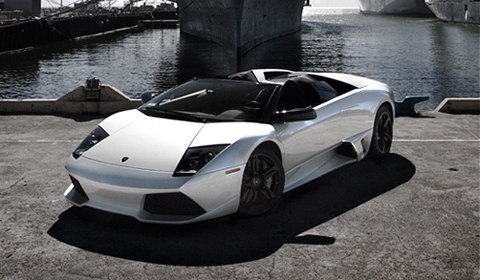 Our newest photo of the day shows two of the most powerful machines made by men. Parked in front of the mighty USS Hornet is a white Lamborghini Murciélago LP640 Roadster.
This car is powered by a 6.5 liter V12 which provides, like the name of the car suggests, 640hp and a torque of 660Nm. The car goes from 0 to 100km/h in 3.0 seconds, 200km/h is reached in 11.3 seconds and the top speed is 330km/h.
The USS Hornet is a 266m long aircraft carrier which entered service in 1943 and was decommissioned in 1970. Powered by four steam turbines which provided 150,000hp the ship had a top speed of 33 knots (61km/h). According to Wikipedia, the Hornet is said to be one of the most haunted warships in the American Navy. The ship is now a museum in Alameda, California.
This amazing picture of was made by forum member Alex Diaconou. For more stunning shots, check out his photostream at Flickr.