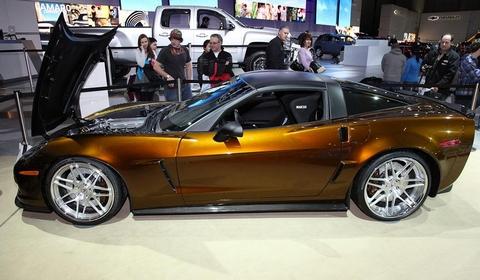 ETC or in long Elite Tuners of Canada have released their race-inspired tuning project for the Chevrolet Corvette. The project comes with a Top Tuner 5 package and was shown to the big public during the Canadian International Motor Show earlier this month.
ETC took a stock Corvette C6 and in four months completely transformed it into a performance machine. With the focus on creating a car with high track performance and an unique design the engineers came up with this aggressive looking Corvette.
Under the hood you'll find the new LSX 376 Crate engine from General Motors combined with a Pro Charger F1R that brings the final output to a stunning 920hp together with 949Nm of torque.
The exterior of the Corvette is fitted with a custom wide body kit and APR Performance carbon fiber accents and spoiler. The body work is finished with a highly unique Gold Rush paint, a specialized multi-coat candy colour.
[Via WorldCarFans]