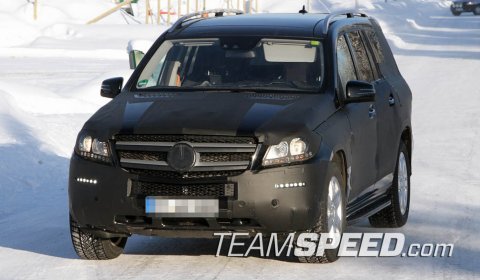 The spies from Teamspeed have caught winter testing the latest and most revealing photos of the upcoming Mercedes GL. For the first time we can see most of the front end with head lights and grille. The GL will get front end styling attributes from the current E-Class. Some previous reports have noted the GL will be built on a stretched version of the next generation ML platform.
The new GL will feature LED daytime running lights on the bumper and the compact light clusters for the rear taillights will likely be part of the next-generation GL's look as well as a more aerodynamic nose from the current GL.
The power will most likely come from 3.0 and 4.0 liter diesels and a 5.5 liter gasoline/petrol engine, all coupled to the brand's 7G-Tronic seven-speed transmission.